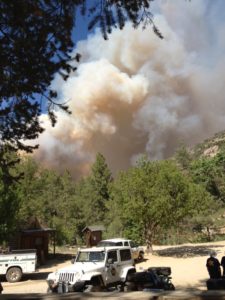 We have a lot of information coming from town and will be posting updates throughout the day and coming days.  Ben and Carol Boles, the Crown King General Store owners are still in town and are keeping the store open for the fire fighters.  The power lines have burned so the town is without power, the store is running on generator power.  It appears that the Gladiator Fire has crossed the main road to Crown King and is burning in Hell's Hole where the Lane 2 fire burned in 2008.  Darla from Cedar Roost reported that the fire was burning just to the outside of the "Magic Bridge."  The fire is also on the north side of the Gladiator mine and moving towards the Del Pasco mine.  Reports say that the no further structures have been lost besides the two homes and one out building yesterday.  The wind is really picking up which is making hard work for the fire fighters. There have been reports that the Gladiator Fire had grown to 3000 acres over night, but that number seems to have redacted and it appears reports have the total acreage between 600-800 with 0% containment.
We will continue to post updates as more information comes available, so check back often.
Here are some links for more info on the fire:
Listen to the live radio feed coordinating the fire fighting efforts of the Gladiator Fire in Crown King here: http://www.radioreference.com/apps/audio/?action=cwp&ctid=106 When that window opens up click the Northern Maricopa and Southern Yavapai feed. At 1:38pm radio traffic indicated requests for all additional tankers from the Phoenix Area to be moved immediately to the Gladiator Fire.
Updates on the Gladiator Fire are available at the Arizona Emergency Information Network website address: http://www.azein.gov/azein/default.aspx This website has information regarding all Arizona wildfires including the Gladiator Fire.
The Crown King Community Association is also publishing regular updates on the Gladiator Fire at: http://crownkingca.org/communityalerts