Less than 2 hours from Phoenix to the cool pines of Crown King!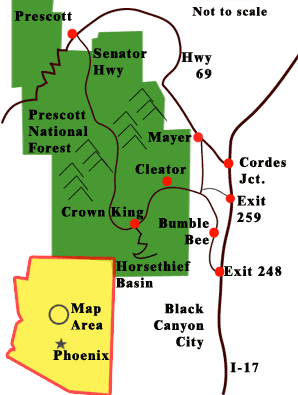 26-Miles of dirt road winding through the Bradshaw Mountains with incredible views and a good chance to spot wildlife like gila monsters, tarantulas, foxes, maybe even a mountain lion!
1. N on I-17 from Phoenix
2. Exit on #248 Bumble Bee exit
3. Turn left and follow dirt road
4. Pass through the "Ghost-Towns" of Bumble Bee & Cleator 
Use caution on switchbacks and one-lane bridges!
Interested in an exciting Off-Road Adventure?
The "Old Crown King Trail" is an exhilarating trip from Lake Pleasant to Crown King. Jeeps, ATVs & high clearance 4×4's only! Visit the trail runs forum at
www.virtualjeepclub.com
for more info and directions on this trail and others in Arizona. The Old Crown King Trail is only appropriate for drivers with the experience and equipment to handle a rough road that is not maintained. Conditions may vary and we recommend using extreme caution and bringing your adventurous attitude!