Attention Press: Please forward all requests to use images and any questions to our main office number at: 623-492-0600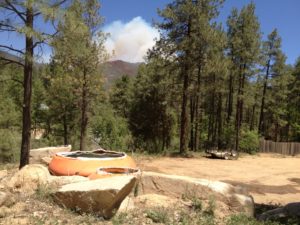 Radio traffic for the Air Support of the Gladiator Fire in Crown was indicating that Sky Crane helicopters were ready to start dumping water on the fire, but they didn't have a source with enough water.  The nearest source would be Lake Pleasant and it appears that it will take a few hours for them to get approval to use Lake Pleasant.
Winds are picking up and temperatures are rising.  The crews appear to be focusing their efforts on creating a fire line on side of the fire closest to town.  North of Gladiator Mine there are not many structures and they are focusing now on structure protection for the town.   We will post another update this afternoon or if anything major is happening.
(Update 12:15pm: Helicopters still do not have permission to use Lake Pleasant Water.  Residents are emailing and calling politicians to see what they can do do to help.  Some Slurry Bombers are reporting high turbulence and returning to Gateway Airport till conditions are better.  Heat and winds are making the fire increase in intensity.  Will update again with more info.)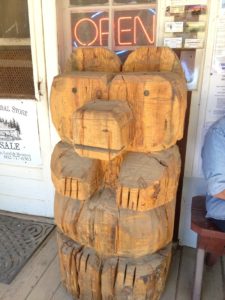 On a positive note: Have you ever noticed the 300lb wood carving of a bear in front of the Crown King General Store?  Well that bear was carved during the Lane 2 Fire in 2008 by the Sacramento Hot Shots Crew and given as a gift to the Crown King General Store.  The Sacramento Crew was so appreciative of the support the General Store gave during the Lane 2 Fire, that they carved that from a fallen tree during the fire with their chainsaws.  It took 6 guys to move it from the truck to the deck of the store.  If you look closely you can still see the inscription they wrote.  Well the good news is that last night the Sacramento Hot Shots Crew arrived in Crown King again, this time to fight the Gladiator Fire.  The crew was excited to see the bear still prominently displayed at the entrance to the store.  We are glad to have them back on the hill working to save our town once again and appreciate their hard work.  Next time you come to town take a minute to look at the bear and appreciate their efforts.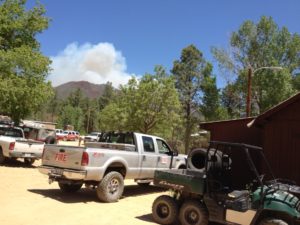 Many people have asked how the fire started.  Official reports are saying that it was a structure fire.  From what we have heard from locals that witnessed the event, a cabin on Gladiator Road caught fire Sunday morning around 11am.  That fire spread to the cabin next door and resulted in the second cabin's propane tank exploding.  The fireball from the explosion is what started the Gladiator Fire racing up the hill.  Luckily while both cabin owners were on the hill no one was hurt in the fire or explosion.
Here is the latest official press release on the fire:
(Posted May 15, 2012, at 10:51 a.m.) Joe Reinarz's Southwest Area Type 1 Incident Management Team assumed management of the Gladiator Fire yesterday evening.

Forecasted drier weather and associated strong erratic winds may complicate suppression efforts. Winds from the southeast and south are expected to push the fire north and northwest today. Gusts up to 35 mph are expected this afternoon. Fire behavior is expected to be active to very active.

Fire crews continue working to suppress the fire and provide structure protection to homes in the community. Firefighters will focus on perimeter control when they can do so safely and effectively. In areas where direct attack is not feasible, they will focus on protecting individual structures ahead of the fire.

Size: approximately 1,700 acres based on last night's infrared flight
Containment: 0%
Cause: Human Caused; originated from a structure fire on private property
Time/Date Started: Sunday, May 13 @11:00am
Location: Community of Crown King (T10N, R1W, S14)
Jurisdiction: Private property and the Prescott National Forest
Fuels: Ponderosa pine and chaparral
Values at Risk: The community of Crown King and the Horsethief Basin. Additional threats are posed to forest service campgrounds, lookout towers, communications sites, power lines and historic sites within the forest.
Terrain: Steep, rugged, difficult access
Resources: 3 Type-1 Crews, 4 Type-2 Crews, 11 Engines, 3 Type-1 Helicopters, 1 Type-3 Helicopter, 6 Type-1 Airtankers, Air Attack

A community meeting is planned for today at 6:00 p.m. at the Mayer High School, 17300 E. Mule Deer Drive, in Spring Valley, Ariz.

All roads leading into the community of Crown King are closed. The Cleator – Crown King Road (County Road 59) is closed at Cleator. The Senator Highway to Crown King (County Road 52) is closed at Palace Station.  Forest Road 192 is closed.  A Closure Order is in effect for all Prescott National Forest land south of County Road 177.

A mandatory evacuation is in effect for the community of Crown King. An evacuation center has been established for the residents of Crown King at the Mayer High School – 17300 E Mule Deer Drive, Spring Valley, AZ.

Red Cross personnel will be on hand to assist those arriving from Crown King and can be reached at 928-237-6751. The Red Cross CANNOT provide information on the status of the fire or evacuation order specifics. If someone is trying to locate family or friends from the Crown King area, this IS the number to call.

The public can obtain fire information via the following:

Gladiator Fire Incident Website:

http://www.inciweb.org

 Fire Information Center: Information officers are available to provide fire information and media interviews at the Mayer High School.  They can be reached at (505) 235-4213 from 7:00 am until 10:00 pm.
Prescott National Forest Fire Information Hotline: 928-777-5799 (recorded message)
 Prescott National Forest Web Site:

www.fs.fed.us/r3/prescott

 Arizona Fire Information & Restrictions: Call toll free 1-877-864-6985 or visit

http://wildlandfire.az.gov

.
(source: Southwest Area Type-1 Incident Management Team; Prescott National Forest; Arizona State Forestry Division)