If you are looking for our main update of the day including a map of the fire go here: https://crownkingaz.com/archives/crown-king-gladiator-fire-day-3-update-1/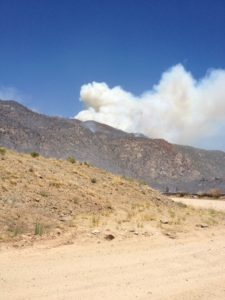 Update (5:10pm) – Last update for a couple of hours, it is still windy for the Slurry Bombers to be working on the North Side of the fire.  Helicopter crews are still making regular drops.  Reports are that the crews will be flying until 7:00pm tonight and they may try to get a few more bomber runs in before dark.  It sounds like the fire covered a lot of ground today with the wind and heat, but mostly was burning on the North and Northwest sides.  As long as the winds don't change to coming from the North and moving South, Crown King should do fine tonight.  I will update the page later tonight with with videos from the news coverage.  Check back often, and leave us a comment at the bottom if you like the info we are sharing, or better yet like the post in facebook and share with your friends.
Update (3:29pm) – It was determined that it is too windy for slurry bombers to continue efforts.  Helicopters still being used.  Fire is making a strong run on North side.  Crews starting defensive work on structures on the North side of Gladiator Mine.
Update (2:49pm) – Slurry Bombers were requested to return to the Gladiator Fire to test the wind to see if they could resume attacking the fire from the air.  It sounds like two of the tankers have been assigned to another fire, but two tankers are available and will be on route to Crown King to start dropping slurry on the lines again.  Helicopters have been consistently making drops all afternoon.
(Updated  at 12:30) Winds are picking up and creating problems for the fire fighting crews fighting the Gladiator Fire in Crown King.  Some slurry bombers were reporting increasing levels of turbulence when making their passes.  With the wind forecasted to continue increasing in the afternoon, this could cause problems.  If the air crews are grounded due to high wind, the only defense is the crews on the ground. The fire is still being reported as 1700 acres.
It appears that crews have gained permission to dip water out of Lake Pleasant and are currently doing so.  It seems that the helicopter crews are continuing their air attack, but the slurry bombers are making their final passes and will be waiting for better weather.
For the time being we will post updates on this page, check back and refresh the page for the most current info.
The most recent official update:
Source: Southwest Area Type-1 Incident Management Team; Prescott National Forest; Arizona State Forestry Division
Posted May 15, 2012, at 10:51 a.m.) Joe Reinarz's Southwest Area Type 1 Incident Management Team assumed management of the Gladiator Fire yesterday evening.
Forecasted drier weather and associated strong erratic winds may complicate suppression efforts. Winds from the southeast and south are expected to push the fire north and northwest today. Gusts up to 35 mph are expected this afternoon. Fire behavior is expected to be active to very active.

Fire crews continue working to suppress the fire and provide structure protection to homes in the community. Firefighters will focus on perimeter control when they can do so safely and effectively. In areas where direct attack is not feasible, they will focus on protecting individual structures ahead of the fire.

Gladiator Fire summary:

Size: approximately 1,700 acres based on last night's infrared flight

Containment: 0%

Cause: Human Caused; originated from a structure fire on private property

Time/Date Started: Sunday, May 13 @11:00am

Location: Community of Crown King (T10N, R1W, S14)

Jurisdiction: Private property and the Prescott National Forest

Fuels: Ponderosa pine and chaparral

Values at Risk: The community of Crown King and the Horsethief Basin. Additional threats are posed to forest service campgrounds, lookout towers, communications sites, power lines and historic sites within the forest.

Terrain: Steep, rugged, difficult access

Resources: 3 Type-1 Crews, 4 Type-2 Crews, 11 Engines, 3 Type-1 Helicopters, 1 Type-3 Helicopter, 6 Type-1 Airtankers, Air Attack