Attention Press: Please forward all requests to use images and any questions to our main office number at: 623-492-0600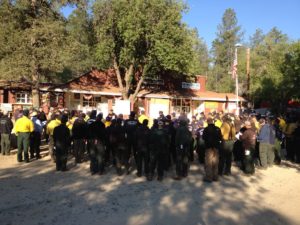 We have lots of info to share this morning on the Gladiator Fire in Crown King, AZ.  The morning briefing was held in front of the Crown King General Store at 7:00am.  Carol Boles was there taking photos and listening.  The great news is that no more structures have been lost since the two at the start of the fire.
Here are the notes from this mornings briefing:
The big issue today is going to be weather, with what the commanders are calling Critical Fire Weather.  The main issues are low humidity, high temperatures, and high wind. The forecast for the day in Crown King is 90 degrees  with wind gusts 20-25mph  Luckily this is still in the ok to fly zone but is pushing the limits of safety for the air support teams. The firefighters top priority is to protect structures. today that are in the line of the fire.  Crews were told how to stay safe out on the fire lines with an emphasis to stay hydrated in the heat. Yesterday two firefighters were injured, one for dehydration one for injuries.  The crews were told to watch out for mines and power lines and to treat power lines  as if hot at all times.   Air operations commander stated that they have plenty of forces available to use on the Gladiator Fire and protect the town of Crown King. A new communications guide was handed out to firefighters.  A new repeater was installed on the Horsethief Basin Lookout tower to aid in communications and a second repeater will be installed at a location yet to be determined. Emphasis was made for the fire crews to make sure they have communication at all times as the deep canyons have been interfering with radio traffic. Today is a Transition day for the incident team.  They are Establishing an  incident command post (ICP) in Mayer.  This will minimize travel on road main road to Crown King that still has hot spots on both sides of the road. The Gladiator Fire has burned 1203 acres still with zero containment.
The Gladiator Fire was less intense over the evening which is common, the goal is to fight it hard this morning before the heat and winds pick up in the afternoon.  Crews are performing back burns to try and starve the fire of fuel.
More crews arrived in Crown King last night and this morning.  Many crews camped on the mountain last night to limit travel the travel time and allow the crews to hit the fire hard this morning.
Here is the current list of crews fighting the fire: (Italics represent new crews since last update)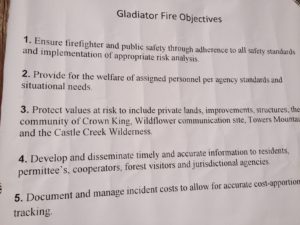 Globe Fire Department
BLM Phoenix Division
Sacramento Hot Shots (look for another update coming soon on this crew)
Lewis Fire
Perryvale (All Girls Crew)
Smokey Boar IHC
GI/A IHC
Sante Fe Hot Shots
Chino Valley Fire Crew
Peeples Valley Fire Crew
Verde Valley Fire Crew
Mayer Fire Crew
Central Yavapai Fire Crew
Surprise Fire Crew
Sun City Fire Crew
Groom Creek Fire Crew
Glendale Fire Crew
Daisy Mountain Fire Crew
Wildlands Fire Crew
Navajo Hot Shots
Crown King Fire Department
USFS Crews (numerous)
Payson Fire Crew
Black Canyon City Fire Crew
 As requested here is a map of the fire area from this morning's briefing: Click it to view full size)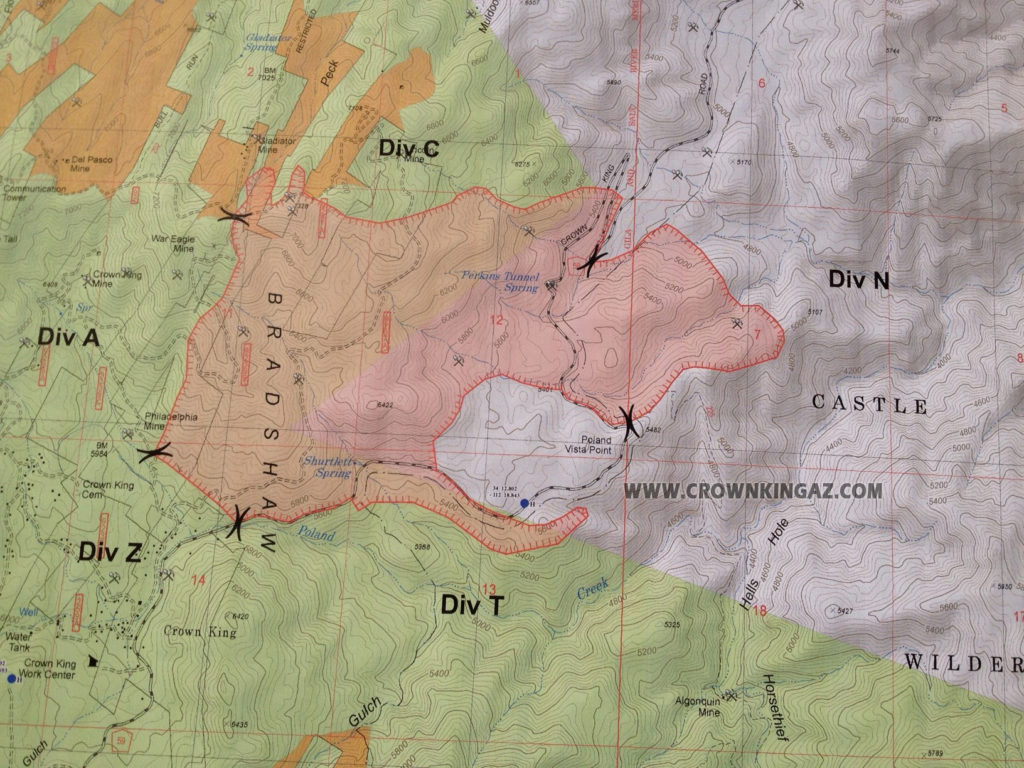 Here are some photos taken by Carol Boles in the last 24 hours.  Click the images for full size: