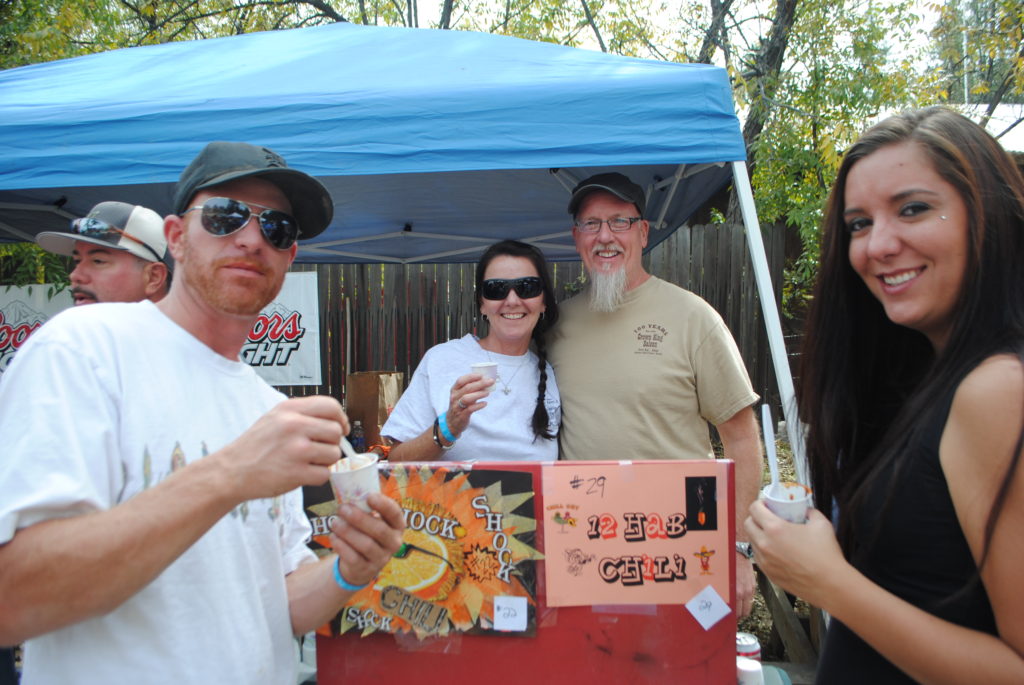 BEER, CHILI & A PERFECT FALL AFTERNOON IN CROWN KING! That's pretty much how you would describe the 2012 Chili Cookoff at the Crown King Saloon, Sat. Oct 6th.


The 28th Annual Chili Cookoff attracted 32 contestants that were hoping to be crowned "Number One" ! This year the honor of being the Number "1" chili was bestowed upon Matt Chamberlain's #2 "Brown Chili". In addition to the notoriety, Matt also won $225 and a statue. Second Place went to Christine DeWitte's #26 "Stumble In" chili. Christine went home with a big smile along with $175 & a statue. Third place winner, Vance Oswskey and his #28 "Spank the Bull" brought home $100 and a statue. The much coveted PEOPLE'S CHOICE AWARD, along with $200, was presented to Robyn Kenny for her # 27 "Woosey Green Chili". The weather was perfect for this year's chili cookoff. Thomas Oliver & Hotfoot kept the party rolling into the evening at the Saloon. As always, the cookoff was a success and the local businesses got a shot in the arm! Thanks to everyone who entered chilis, volunteered, judged and participated in the 2012 Cookoff. We hope everyone had a great time and will plan to visit Crown King again soon.
Just a reminder, cooler weather allows for us to mail fudge again. Pumpkin Pie, Apple Pie & Sweet N Salty are the featured flavors this month. Call the General Store 928-632-7911 to order your holiday fudge. Thanks for your business from Jennifer, Margaret, Terri, Ben & Carol.