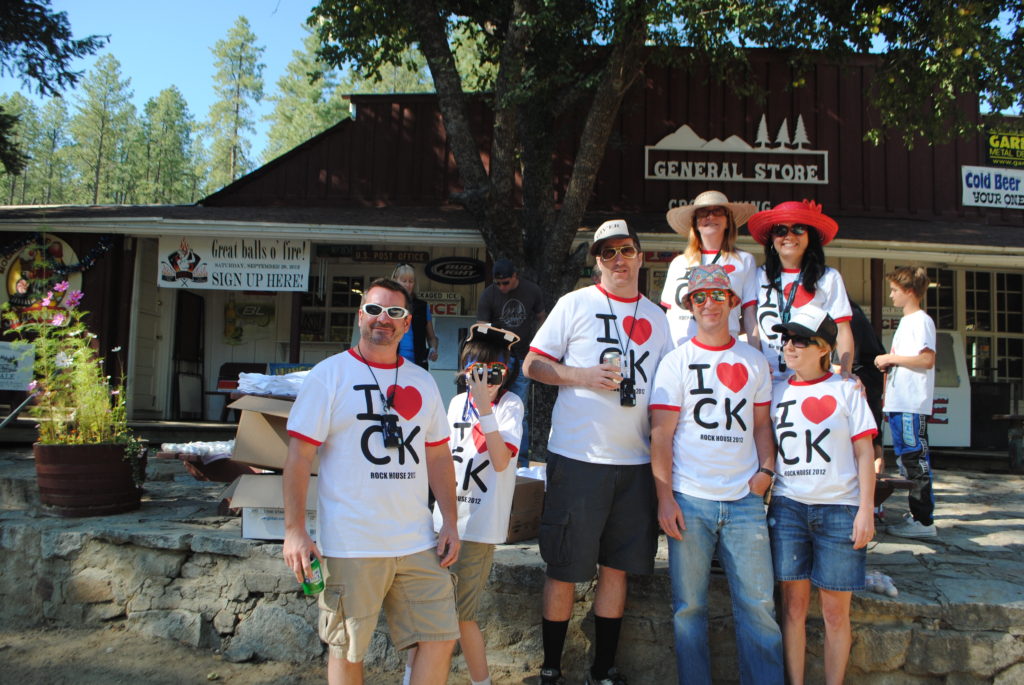 LOCAL ROADS ARE BIG WINNERS IN THE 2012 CK BALLS O' FIRE GOLF TOURNEY

Who says you have to have a golf course to host a golf tournament? In Crown King you will find the most unique golf tourney on the planet! The Crown King Road Maintenance Association is the host and recipient of funds raised at this popular annual event. As in years past, the golf tourney was a huge success much to the credit of it's organizers, Bill and Tommey Burke.  The  many volunteers and sponsors played a critical part in the 2012 Balls 'O Fire Golf Tournament.
Over 60 golfers registered to have some 'serious fun' on our mountain course. The morning started off with a delicious breakfast burrito from Megan Clifford at Doozy's Bakery. Golfers were then shuttled to the first hole approximately one mile from town. From there the foursome teams golfed five holes down Gladiator Mine Road.  Golfers rolled their ice chests along with them as they traveled downhill to town. Melinda and Jack Ripley, owners of the Historical Assay House, provided a brief intermission for the golfers. There were an additional four holes in town at the local businesses. As luck would have it, there was a three way tie for First Place. The teams determined the winner with a sudden death putt-off across the Main Street bridge.  This year's winning team were "The Pinks". The  "Best Costume Award" was won by The Clan of the Caves Boozers and the US Forest Service Team won a prize for the "Worse Score".   Congratulations to all the golfers!
After golfing the foursomes were treated to a BBQ Banquet and award ceremony at the Crown King American Legion Post 139. Linda Lombardo cooked up a delicious pot of chili, while the CK Road Association members served up burgers and  dogs. The General Store ladies created a special "Great Balls O Fire Fudge"  for the golfers. Thanks again to all the sponsors , golfers & the CKRMA volunteers who helped make this year's golf tourney a great success! You helped raise $2,300 for the local road maintenance association.
Thanks for supporting Crown King. Don't forget that next weekend is the 28th Annual Chili Cook-off.  If you intend to enter, bring one gallon or more of Chili to get in free( one free per entry) or pay $15 at the door. Prizes and money for 1st, 2nd, 3rd and People's Choice. Sign up at 10am , judging starts at high noon. Beer starts pouring at 11:30. Don't be late !! Chili and beer won't last long. Stick around and dance the night away with Thomas Oliver and Hotfoot.