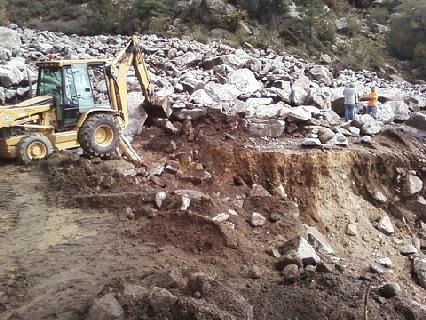 THE FOLLOWING IS A MESSAGE FROM CHUCK BOLLE, CK ROAD ASSOCIATION BOARD MEMBER :
"The county is finalizing their repair plans for the ck main road – I talked to Byron Jaspers today at the store; he had Aric Stewart, Construction Project Engineer up with him.
Their plan is to work Monday-Thursday, 8am-5pm for the next 2 months, or whatever it takes to complete the repairs. Starting immediately. People needing to leave or get back to CK Monday-Thursday should attempt to do so prior to 8am or after 5 pm. The crews will let people through as possible but there will be heavy equipment in use on our narrow roads so long delays may be expected. Crown King residents will be given priority as possible; our emails should stress Mon-Thurs is not a good time for non-resident "sight seeing".
Everyone should plan to use Fri/Sat/Sun for trips to town and back, as much as possible. Tourists and non-residents will be able to come up and leave with no problems Friday thru Sunday. This info is per Byron Jasper, Yavapai County Public Works Director."
THE COUNTY IS DOING A GREAT JOB REPAIRING THE DAMAGE AND STABILIZING THE ROAD. THIS PHOTO WAS TAKEN SUNDAY MORNING JULY 15TH. THEY WERE ABLE TO ALLOW PASSAGE BY THE END OF THE DAY.  PLEASE BE DRIVE CAREFULLY! WE WANT ALL OUR CK FRIENDS AND NEIGHBORS TO REMAIN SAFE. THANKS FOR CONTINUING TO SUPPORT OUR LITTLE TOWN. THERE IS STILL COLD BEER, GREAT FOOD AND YUMMY FUDGE IN CROWN KING!!!  PLEASE MAKE NOTE OF THE ROAD CLOSURE TIMES AND WE LOOK FORWARD TO SEEING YOU IN CROWN KING SOON.
BEN AND CAROL BOLES
PROPRIETORS/CROWN KING GENERAL STORE