It has been a while since we have posted an update.  Two weeks of constant blogging takes its toll!  Everything in town is going well.  Residents were allowed up last weekend and on Monday Crown King was opened to the public! 115 firefighters are still on the mountain making sure all the hotspots are out.  The fire is 70% contained and has burned 16,240 acres to date (a number that hasn't grown in a while).  To date the fire has cost over $14 million to fight.  Rehabilitation efforts have begun and crews are working to help return the forest to its natural beauty.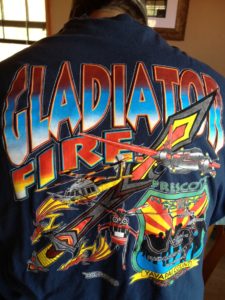 We are happy to announce that the Crown King General Store is now selling the "Official" Gladiator Fire Shirt.  Many residents noted that a vendor was selling the shirts to firefighters outside of Mayer High School.  Well, we were able to secure a large stock of these shirts and they are now available in the store.  We are also proud to let everyone know that we will be donating $4.00 from every shirt sale to the Crown King Fire Department.  If you are interested in purchasing a shirt please come to town and stop by the General Store before they run out.  We sold out of the Lane 2 Fire Shirts in less than two weeks so these will go quick.  The shirts are $20 each (plus tax of course) and are available in many colors.  The shirts are also available to be shipped for $30 (including shipping to anywhere in the US) by calling the Crown King General Store at (928)632-7911.  Once they run out, they will not be available again.
Also, remember that the 6th Annual Wine in the Pines event has been moved from June 6th to July 28th.  Normally this event raises funds for the Child Crisis Center but we will be adding a live auction item to also benefit the Crown King Fire Department.  Visit www.wineinthepinesaz.com for more info or to purchase tickets.  Also if you are interested, we are still accepting donations for the silent auction and raffle prizes.  If you are interested in donating please call Jackie or Carol at our main office at (623)492-0600.
Also, our annual "World's Shortest Memorial Day Parade" has been rescheduled for 4th of July weekend, so join us on Sunday, July 1st for this fun-filled event!
Come up and see the town.  We can't wait to see you in Crown King!